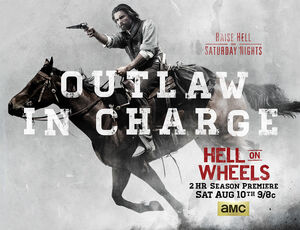 Season 3
is
finally
upon us!!
Here's what the critics said about the season premiere:

"The history behind the story is tremendous--you feel its pulse."
–Tom Gliatto (People Weekly)

"What this well-written series does not need is a character [Louise Ellison (Jennifer Ferrin), a NYC reporter] whose only job seems to be moving the story along with expository dialogue in the guise of interviews."
–Linda Stasi (New York Post)

"With his one-note revenge plot behind him, Bohannon teams up with Ferguson to work on a new railroading venture, and thankfully their opponents are much more interesting this time around."
–Ray Rahman (Entertainment Weekly)

"A prickly alliance founded on mutual respect and constantly threatened by both history and present, unpleasant circumstance, it's more subtle and moving than your average TV bromance and brings out the best in Common and Mr. Mount. "
–Mike Hale (The New York Times)
---
What did you think? Comment below, or write a reaction blog of your own!
Was the season premiere worth the wait?
---
---
Ad blocker interference detected!
Wikia is a free-to-use site that makes money from advertising. We have a modified experience for viewers using ad blockers

Wikia is not accessible if you've made further modifications. Remove the custom ad blocker rule(s) and the page will load as expected.