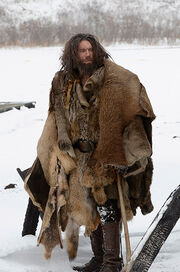 After show creators and writers Joe and Tony Gayton left, John Wirth was picked up to write for season 3. Wirth has also written for
Nash Bridges
,
Picket Fences
, and , most recently, TNT's
Falling Skies
. Wirth acknowledged, in an interview with the
Calgary Herald
, that his writing style is not that of the Gayton brothers. "Naturally there's going to be some changes because I'm not them...Good writers have a specific voice. In my case, I've tried to toe the line on the tone of the show where it was working in my opinion and I've tried to bring some changes to it where it wasn't. For example, I thought the show was a little earnest and a little bleak. I wanted to bring a little more levity and a little more hopefulness to the show. And, as I've said publicly and to Anson on more than one occasion: Cullen Bohannon will be drinking less and talking more this season."
Read more of his interview here
While I personally have enjoyed the bleak tone of Hell on Wheels, a change in pace could be good and bring new life to the show. I definitely think this season will be a turning point for the show, with the possible loss of several key characters leaving the show standing on a precipice that could end in disaster.
Ad blocker interference detected!
Wikia is a free-to-use site that makes money from advertising. We have a modified experience for viewers using ad blockers

Wikia is not accessible if you've made further modifications. Remove the custom ad blocker rule(s) and the page will load as expected.