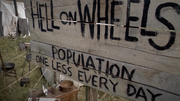 Hell on Wheels
was originally used to describe the itinerant collection of flimsily assembled gambling houses, dance halls, saloons, and brothels that followed the army of
Union Pacific Railroad
workers westward as they constructed the American transcontinental railroad in the 1860s.
Hell on Wheels, as depicted on the television series, includes a whore house and the Starlight Saloon, both of which are owned and operated by Sean and Mickey McGinnes. There is also a slaughterhouse, a sign painters, a small hotel, and a church, the last of which is run by Ruth Cole.
External Links
Edit
Ad blocker interference detected!
Wikia is a free-to-use site that makes money from advertising. We have a modified experience for viewers using ad blockers

Wikia is not accessible if you've made further modifications. Remove the custom ad blocker rule(s) and the page will load as expected.