Sergeant Frank Harper was a Union soldier, who was accused of murdering Mary Bohannon.
Biography
Edit
Background information
Edit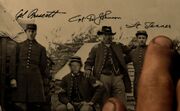 According to his certificate for disability for discharge, Harper was born in Windsor, Vermont and was a farmer at the time of his enlistment in January 1863. He was discharged July 18, 1864, two weeks before the incident at Meridian and Mary Bohannon's murder. He was discharged because of a bullet wound in the left side of his abdomen during a battle in Starkville, Mississippi in June 1864. Though he was not at Meridian, he stayed in touch with Daniel Johnson, his former captain, and the other men in his company and knew about Mary's murder. ("God of Chaos")
Main article: Season 1
Harper worked on the lumber crew for the Union Pacific Railroad, which at the time was twenty miles west of Hell on Wheels. After hearing news of the murder of Daniel Johnson, his former captain during the war, Harper fled north, knowing that Cullen Bohannon would soon be after him. He narrowly escaped being killed by Bohannon by shooting his horse out from under him. ("Jamais Je Ne T'oublierai")
Thor Gundersen, upon learning Harper's connection to Johnson, tracked down Harper and attempted to persuade him to testify against Bohannon for the murder of Johnson. Harper returned to Hell on Wheels with Gundersen, but Bohannon quickly learned of his arrival and attempted to track him down. Gundersen helped Harper to escape, telling him to get on a train later that night with the federal marshals, who would protect him from Bohannon until he could testify. Harper hid during the festivities of the forty-mile marker celebration and nearly made it to the train before being attacked by Bohannon. Harper attempted to prove his innocence, reaching for his discharge papers but he was overpowered and Bohannon strangled him to death. ("God of Chaos")
Appearances
Edit
Ad blocker interference detected!
Wikia is a free-to-use site that makes money from advertising. We have a modified experience for viewers using ad blockers

Wikia is not accessible if you've made further modifications. Remove the custom ad blocker rule(s) and the page will load as expected.