Eva Toole is a former prostitute in Hell on Wheels.
Biography
Edit
Background information
Edit
As a girl, Eva was captured by a group of Yavapai Indians but they traded her to the Mojave. During her captivity they tattooed her face. The tattoo means "three blankets and a horse" (correction, "3 blankets, 2 horses"), indicating her worth. ("Jamais Je Ne T'oublierai", "Derailed")
Main article: Season 1
Eva comes to Hell on Wheels and begins working at the cathouse. Rumors of her past spread around town and reach Mickey McGinnes. When Elam Ferguson entered the cathouse and wanted her services, she laughed at him. ("A New Birth of Freedom")
She yells at Nell and the working girls for teasing Lily Bell and apologized to Lily. Later, she offers Elam her services off the books. After they are finished, Elam asks what her tattoo means and she explains it indicates her worth "three blankets and a horse". ("Jamais Je Ne T'oublierai")
She warned Elam that if he won the fight against Cullen Bohannon that they would kill him. ("Bread and Circuses")
Main article: Season 2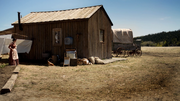 Eva has remained in the railroad town of
Durant
,
Nebraska
. She and
Gregory Toole
married sometime after settling there, despite her earlier claim to
Elam Ferguson
that no relationship existed between them. While fetching water for the morning, she discovers the town telegraph operator dead and the town being attacked by a
Sioux
murder party. She witnesses several of the eleven deaths that occur during the raid. ("
Viva La Mexico
")
After returning to Hell on Wheels with the rest of the survivors, she begins a secretive affair with Elam. She has recently revealed that she's pregnant, and claims that Elam is the father.
Main article: Season 3
During the winter, Eva and Elam have moved to Omaha and live in a small temporary type home. Eva has very pregnant but tells Elam he can leave to help Bohannon, as birthing is "not a man's business". ("Big Bad Wolf") She has the baby while Elam is away. "Eminent Domain"
After Eva gives birth to her daughter, she is visited by Declan Toole, Gregory Toole's brother. He has come to Hell on Wheels to marry Eva and raise her daughter as his own, which he claims is customary. Eva declines. Faced with the cholera epidemic and realization that the railroad is no life for a child, she agrees to go to New York with Declan; however, on the train, she gives the baby, who she and Elam finally name Rose, to Declan and tells him to take care of her, deciding to stay in Hell on Wheels. ("Cholera")
When Elam discovers what Eva has done with Rose, he throws her out of his tent, telling her to go back to her whoring, though she pleads to stay. She attempts to get work with Mickey, though it isn't clear if it is in the Phoenix Saloon or in the cathouse. Mickey turns her down, fearing reprisal from Elam, but he does give her some money to leave in town. She waits on the platform for the next train out of town but is found by Louise Ellison, who takes her in, as Eva does not correct her when she thinks Rose has died of cholera. ("It Happened in Boston")
Appearances
Edit
Season 4 appearances
"

The Elusive Eden

"
"Escape from the Garden"
"Chicken Hill"
"Reckoning"
"Life's a Mystery"
"Bear Man"
"Elam Ferguson (Episode)"
"Under Color of Law"
"Two Trains"
"Return to Hell"
"Bleeding Kansas"
"Thirteen Steps"
"Further West"
Behind the Scenes
Edit
Eva shares many traits with real-life Indian captive Olive Oatman, who was captured by the Yavapi and then traded to the Mojave. Eva's tattoos also bear a striking resemblance to Olive's.
Ad blocker interference detected!
Wikia is a free-to-use site that makes money from advertising. We have a modified experience for viewers using ad blockers

Wikia is not accessible if you've made further modifications. Remove the custom ad blocker rule(s) and the page will load as expected.